alexey nikolaev, sax
john hansen, piano
jon hamar, bass
greg williamson, drums

1. oo-bop (williamson) mp3
2. lemon drop (wallington) mp3
3. what a wonderful world (theill/weiss) mp3
4.soul sauce (delugg/rivelli) mp3
5. unforgettable (gordon)
6. ask me now (monk)
7. i'm confessin' that i love you (daugherty/n/r)
8. optomystic (williamson)
9. cold duck time (eddie harris) mp3

all arrangements by greg williamson
recorded june, 2005 at pony boy studios
mixed, mastered and produced
by pony boy records
layout and art direction by karen hansen
www.ponyboyrecords.com
©2005
This quartet is inspired by jazz's classic period. Their new CD fuses familiar tunes with more modern harmonies and grooves. To this foundation of hard swing and be-bop is layered the merrimented harmonitude of Thelonious Monk, Wayne Shorter, and Williamson originals. Their previous CD "Double Sax Quintet" was listed in the Top Ten by Jazz Times Year In Review. They have performed around the world in clubs, Seattle's Bumbershoot Festival, an inaugural performance at White River Amphitheater, Earshot Jazz Festival and more. The quartet was the core of Williamson's larger jazz history composition "Conversations and Deconstructions" which was nominated for 2005 Concert Of The Year by Earshot's Golden Ear Awards. Sometimes quirky, sometimes sweet, always grooving, and always fun!
more info @ Double Sax Quintet and G Williamson bio
other CDs by Greg Williamson:
The GW Quartet performs monthly
@ Hiroshi's Restaurant more...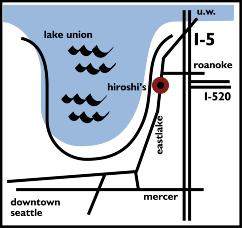 INTERVIEW
SEATTLE SOUNDS
The SEATTLE P.I. newspaper just did a preview feature, and their online "Seattle Sounds" did a podcast radio-style interview with Greg, John and Jon.

THE STRANGER WEEKLY PICK
FRIDAY JUNE 30: JAZZ & SUSHI
A weekly series of straight-ahead jazz in a cozy, low-key setting. This week, drummer and Pony Boy Records honcho Greg Williamson leads a quartet with John Hansen (piano), Jon Hamar (bass), and Alexey Nikolaev (saxophone). I first heard Nikolaev several years ago at a nighttime jam session; boring, bullshit solos held sway until Nikolaev woke everyone...(more)