Pony Boy Orchestra Claude Thornhill's "Real Birth of the Cool"
Jim Wilke's "Jazz Northwest" - KPLU FM88.5
Sunday, December 19, 1:00pm Pacific Time
listen to online archive at kplu.org
Recorded live at the Seattle Art Museum
Earshot's Art of Jazz Series
Seattle Art Museum Downtown, Amphitheater
Thursday, December 9, 2010, 5:30pm

In the late 1940's, Big Band leader and pianist Claude Thornhill commissioned young Gil Evens and Gerry Mulligan to write smooth bop influenced charts for his big band. Slightly ahead of it's time, this rare music is the precursor to the more famous Miles Davis/Gil Evans recording, several years later. Most notable is the size of the orchestra - an expanded band with two french horns, and an army of clarinets and bass clarinets. Music almost-lost has been researched, edited and readied for publication by Dr. David Deacon-Joyner, director of Jazz Studies at Pacific Lutheran University, who will be conducting the Pony Boy Orchestra, led by drummer and composer Greg Williamson.

Saxophone and Clarinets: Tracy Knoop, Travis Ranney, Jim Cutler, Mike West, Bill Ramsay
Trumpets: Jay Thomas, Andy Omdahl, Al Keith
Trombones: Gary Shutes, Greg Schroeder
French Horns: Tom Varner, Mike Simpson / Tuba: Bill Park
Piano: John Hansen / Guitar: Milo Petersen
Bass: Nate Parker / Drums: Greg Williamson
---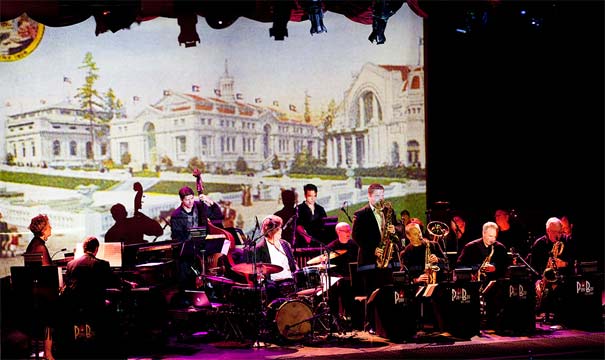 2009/10 A-Y-P Large Ensemble
Jazz Music for Seattle's 1909 AYP Expo
2009 Earshot Jazz Festival, Seattle City Hall, Snoqualmie Park, KPLU FM
---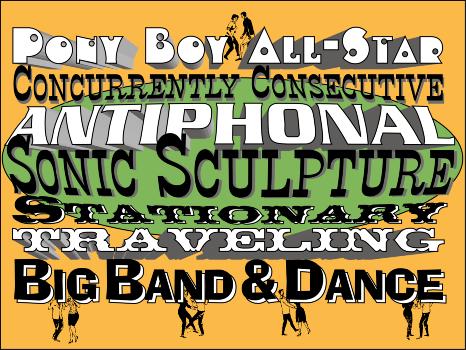 Concurrently Consecutive Antiphonal Sonic Sculpture
Stationary Traveling Big Band & Dance
Musicians wandering through public spaces find their way to each other
through "antiphonal"--call and response--musical pieces,
and gather to perform well-loved American big band and jazz standards.




see the Kent performance on YouTube.com with 4 cameras split-screen!



---

Earshot Jazz Festival Oct 20 - Nov 6, 2005
Jazz Traditions: Conversations & Deconstructions
Consolidated Works 8pm - pdf poster
a new work of interview samples and 14-piece jazz ensemble
---