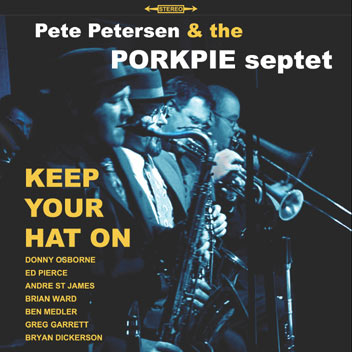 jumping new meets hopping old school fun...
Pete Petersen & the
Porkpie Septet
Keep Your Hat On
"y'all are swingin' baby"
- Frankie Manning, Lindy Hop legend
"Pete's affinity with the Pork Pie Hat led me to think that Lester Young was a big influence on Pete's playing and composing. "Absolutely!" ...after going in to the libraries of Coltrane, Ben Webster, Dexter Gordon and Johnny Hodges... he developed his own incomparable style.
Lester Young's influence came in when Pete formed his current septet, with that great 1930's Kansas City Sound. He started transcribing and performing those old tunes from the earliest days of the Basie Band, Fletcher Henderson, Benny Goodman, Lionel Hampton, and others. Pete has added many of his own compositions and original arrangements, which you will love.

No joke, I think Pete was born in the wrong generation. When I put on his CD, I listen, close my eyes and am taken back. Back to those smoky, swinging, funk filled clubs with music that swung like a gate... this is the music for all generations, this is Jazz."

- Janie Harris, wife of the late great Jazz pianist Gene Harris, Artistic Director for the Gene Harris Jazz Festival in Boise, Idaho. Host of Jazz Straight Ahead on Boise State Radio.
PETE PETERSEN tenor & baritone sax
BRYAN DICKERSON alto sax;
GREG GARRETT trumpet & flugellhorn
BEN MEDLER trombone;
BRIAN WARD piano
ANDRE ST.JAMES bass;
ED PIERCE drums (2, 3, 7, 8, 9)
DONNY OSBORNE drums (1, 4, 5, 6)

more info at www.petepetersen.com