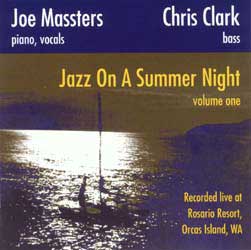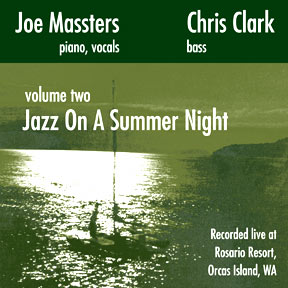 Joe Massters piano, vocals
Chris Clark bass
"Jazz On Summer Night"
volume one & volume two

• Frank Sinatra called Joe "one of the best saloonsingers in the business."
• One night of recording during a twelve week engagement on beautiful Orcas Island.

• "It was amazing! We followed each other - it was like I knew what he would play next." - Chris Clark
vol 1: PB50124-2
vol 2: PB50131-2
In the early 50's, Joe Massters was house pianist at George Wein's Storeyville in Boston. He worked with Dizzy Gillespie's Big Band, Clifford Brown/Max Roach Quintet with Sonny Rollins, Art Blakey's Jazz Messengers, and alongside artists such as Miles Davis and Bill Evans. He was accompanist-conductor for Johnny Mathis and Anita O'Day, including recording for Norman Granz' Verve label, performing at the first Newport Jazz Festival. His composition "The Jazz Mass" was recorded and released by Columbia Records during the early 60's, and has been performed internationally. He also appeared on Johnny Carson's "Tonight Show" . Moving to Palm Springs for the next 30 years, Joe became the premier singer/lounge performer of the desert jazz scene. Frank Sinatra called him "one of the best saloon singers in the business."
Chris Clark learned bass at jam sessions in south central LA with the likes of Dexter Gordon, Wardell Gray, Bobby Hutcherson and Gerald Wiggins. He joined Les Brown's Band of Renoun at the age of 20, appearing in Jerry Lewis' "The Nutty Professor" and touring with Bob Hope's USO Christmas shows. He went on to work with Vic Damone, Della Reese, Chris Connor, Red Norvo, and the CBS staff band. Settling on Orcas Island in Washington State, he continues to perform with big bands and swingers.
Click a link below for MP3 samples
volume one:
1. Straighten Up and Fly Right
2. God Bless The Child
3. Isn't It Romantic
4. Everytime We Say Goodbye
5. Spring Is Here
6. Crazy Moon
7. Emily
8. Two For The Road
9. If I Were A Bell
10. Joe's Closing Blues